Manual Antonio
Manual Antonio is a national park on the Pacific coast near the town of Quepos. The author of my guide book believes it was much better before it was discovered by tourists; while there is clearly a lot of development on the main road to Manual Antonio, the park itself, with tropical forests, cliffs and beaches, seemed fine to me. On the way we stopped at a bridge for a view of the local crocodiles. These are American crocodiles, and I think they were about eight to ten feet long. Not as big as the monster crocodiles in Asia and Australia, but still uncomfortably large. The other big reptiles in Costa Rica are caimans, which only get to about three feet long. They're kind of cute: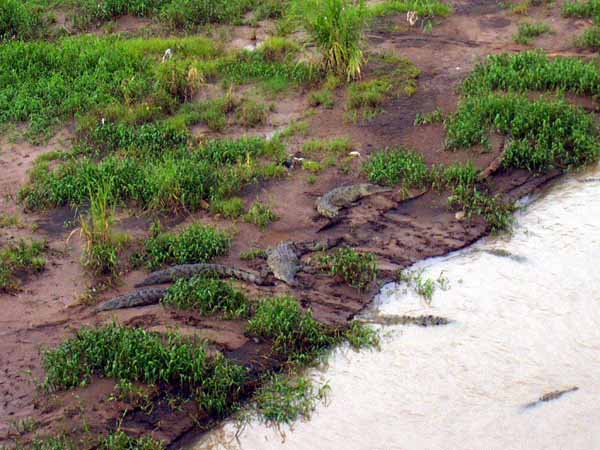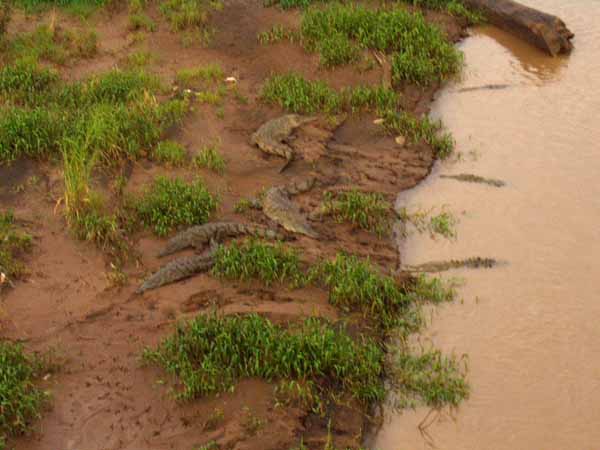 We visited Manual Antonio towards the end of the rainy season, which is the slow season. I understand during the dry season, roughly December into spring, things are much livelier. Not that things were dull when we went there, but the young women in this group weren't interested in going out at night. Other than one student who went to tour the gay bars (he had a book that identified them), the guide and I were the only ones interested in checking out the night life. We went to a bar on the beach that was really hopping, full of people and loud latin music. He quickly found two young and very pretty prostitutes (sorry guys, no pictures) and seemed eager to set my up with one or both of them. I declined, but wonder what kind of reward he was expecting for his efforts, and if I or the young ladies were expected to pay.
Anyway, the Pacific coast is really attractive around Manual Antonio. Of course the Pacific coast is really attractive for most of its length, but it is above average in Manual Antonio: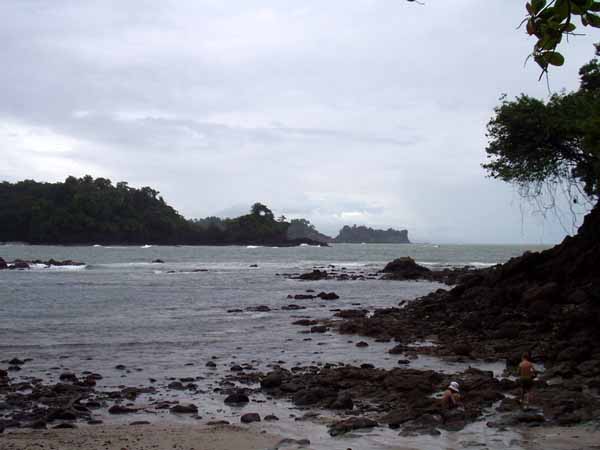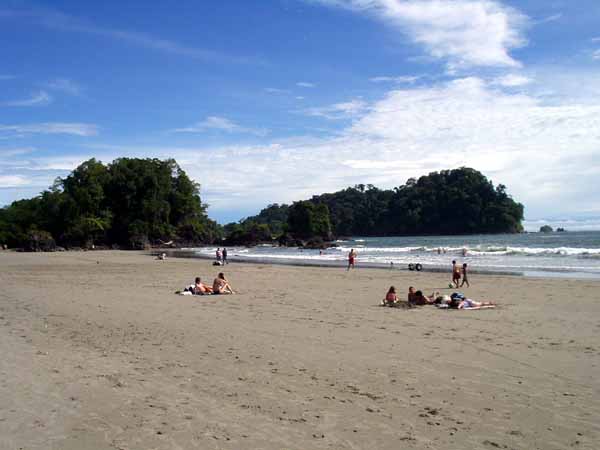 Now for a review of the critters spotted in the park, starting with a white faced monkey, a raccoon hiding in the underbrush, a coatimundi who didn't bother to hide, and a sloth in the shadows: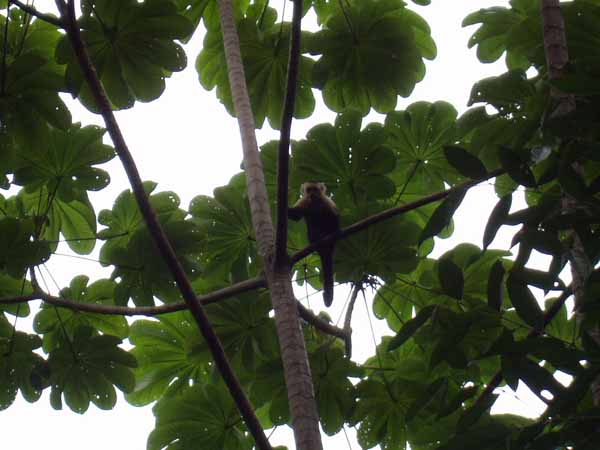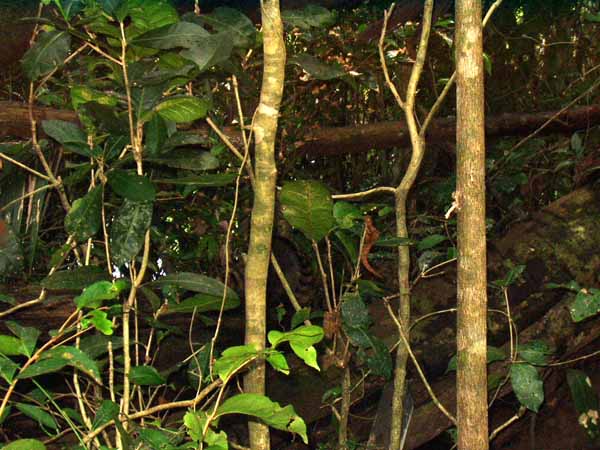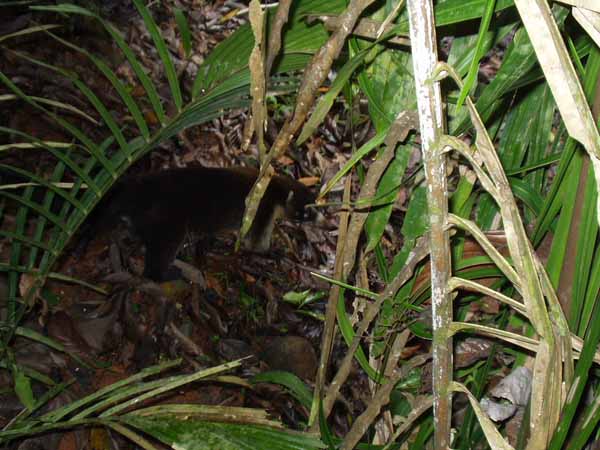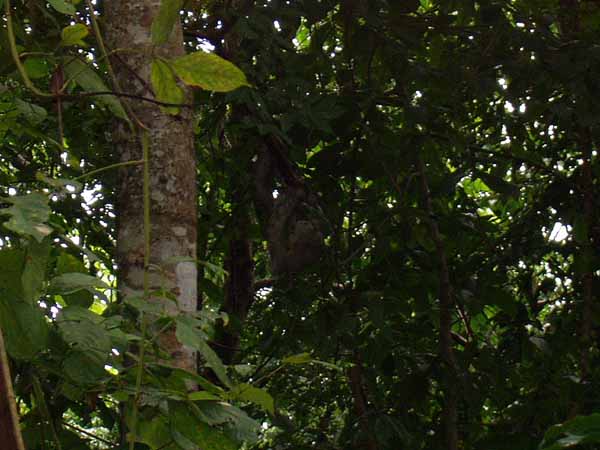 I'm proud of the next picture, an action shot of a white faced monkey, followed by the same fellow contemplating his next move, and more raccoons: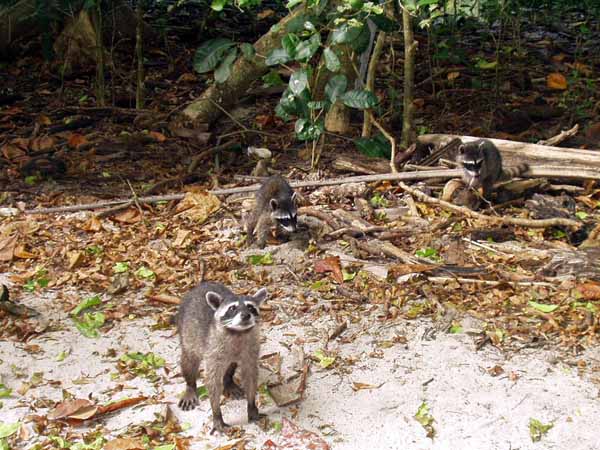 That evening we went to a restaurant where a colony (gaggle, tribe, gang, whatever) of squirrel monkeys liked to hang out. It was pretty dark and these pictures took some serious photo-editing to make the monkeys visible. That's my excuse for the strange colors.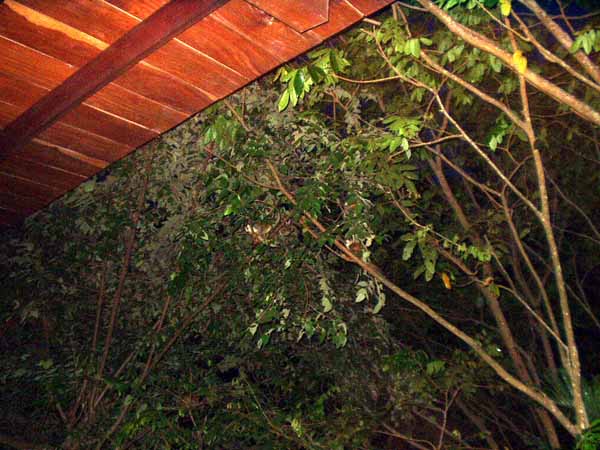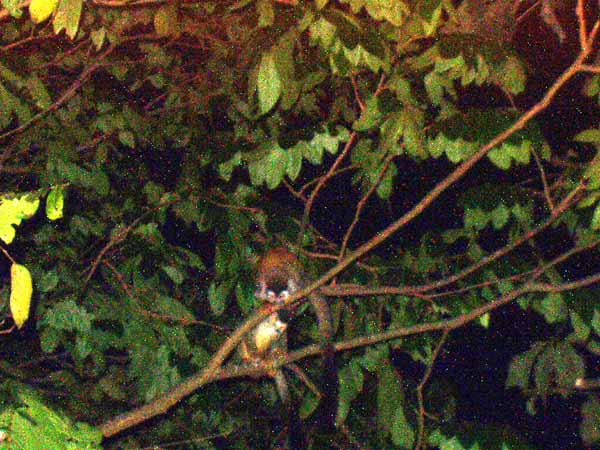 Back at the hotel was a resident iguana who had breakfast with me. I was told that in Central America some of the indigenous people had a name for iguanas that translated to "tree chicken" (Chicken of the Trees?). They were sometimes caught and fed on table scraps until large enough to make a decent meal. Iguanas were understandably shy around people.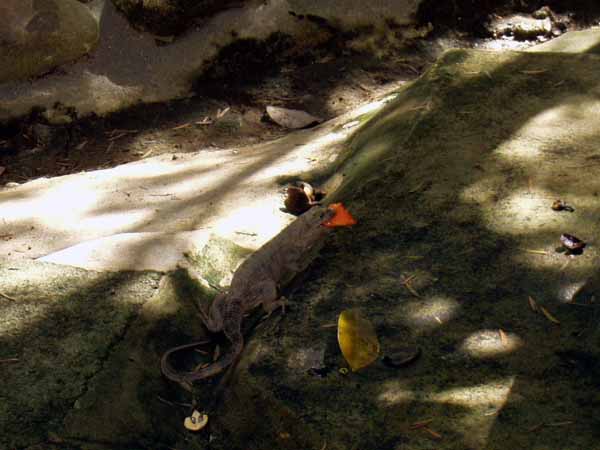 Here's a cool bit of history: This is one of two C-123's (along with a few other aircraft) used by the CIA to smuggle arms to the Nicaraguan Contras by the CIA during that countries civil war. The sister C-123 was shot down over Nicaragua and one of the crew parachuted out and was captured by Nicaragua's Sandinista army. His capture set off the Iran-Contra Arms scandal that stopped the arms smuggling operation, caused considerable international embarrassment for the U.S. and brought down a number of Reagan administration officials. This airplane was abandoned at the San Jose International Airport where its current owners bought it for $3,000 in 2000. It was carted in pieces to this spot where it is now a restaurant/bar.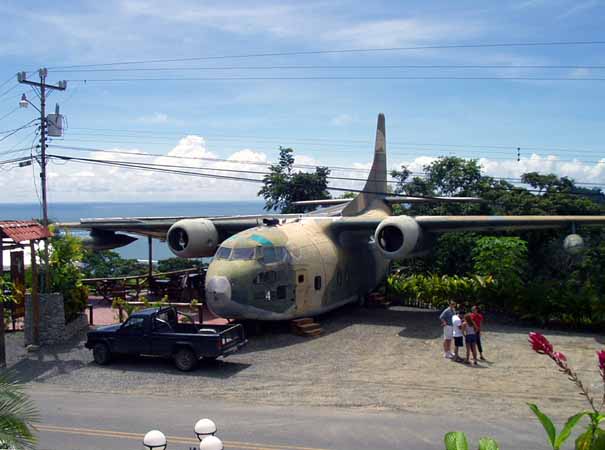 $3,000 for an airplane big enough to be a restaurant/bar. I wish I could find a deal like that. Ok, back to Heredia.
Intro
Costa Rica
Panama
London
Nicaragua
Honduras
Guatemala
Mexico
End