Guatemala
I liked Guatemala. It is difficult to say precisely why, it has the same problems as the other Central American countries--crime, poverty, shaky democratic government, frequent natural disasters, etc. Somehow the problems don't seem as out of control as in other places; the poverty isn't as in your face as in Nicaragua, the crime hasn't reached the point of a low level war with gangs as it has in Honduras, and hopefully Guatemala has left the era of really bad government behind. Also it has dramatic geography, friendly people, at least one beautiful colonial city (Antigua) and is sufficiently well developed to make accomodations comfortable and travel easy, though not always comfortable. I entered the country on Wednesday, September 3 riding with Billy from Roatan, arriving in Antigua late at night:
While in Antigua I took a day trip to hike up Vulcan Pacaya:
On September 12 I took a series of local buses from Antigua to Panajachel to visit Guatemala's central highlands around Lake Atitlan.
After several weeks of taking Spanish classes and doing a lot of goofing off in San Pedro La Laguna I returned to Antigua. I spent a day investigating travel options then on October 27 I traveled by bus to Flores to visit the Mayan ruins of Tikal.
Early on the morning of October 30 I caught a 5:00 a.m. shuttle bus and rode for many hours on a rough unpaved road to the border town of Bethel, where I exchanged my excess Quetzales for Mexican pesos with a money changer there. These guys are at many less developed border crossings, with fistfuls of cash in appropriate currencies, changing money for a 10% commission, or much worse if you don't know the current exchange rates. After changing money I took a twenty minute boat ride on the Rio Usumacinta and stepped off the boat into the Mexican border town of Frontera Corozal. Perhaps this is unnecessary detail, but it was different from border crossings in many countries. Here are a few pictures from the river that separates Guatemala and Mexico in this area: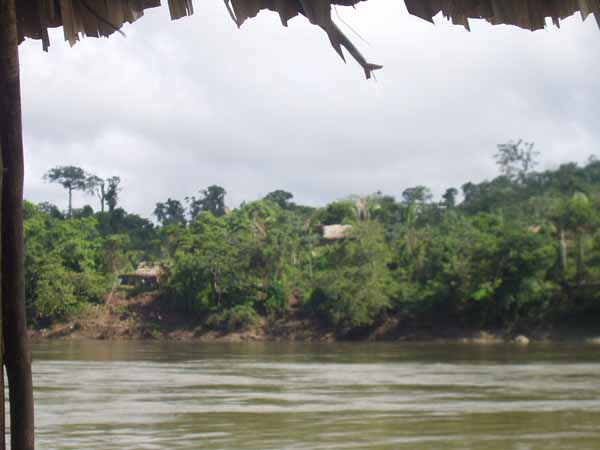 It's easier to fly into a country, but much more interesting to cross borders on land. On to Mexico.
Intro
Costa Rica
Panama
London
Nicaragua
Honduras
Guatemala
Mexico
End